Automated Game Commentary Generator
Hirotaka Kameko†, Shinsuke Mori‡, Yoshimasa Tsuruoka†
†The University of Tokyo, ‡Kyoto University
Overview
We are aiming to build a system that can automatically generate a commentary for a Shogi game. Shogi (将棋) is a chess-like board game and is also known as Japanese chess. For detail rules, please refer to Wikipedia
The task mainly consists of two problems.
How to decide what to comment, such as positions, moves, or the result of searching.
How to comment it.
We propose a machine learning-based approach for generating comments. We generate comments by using a discriminative language model trained with a large amount of game records and comments by human experts.
Besides, comments of Shogi usually consist of textual descriptions and move expressions such as "P-7f" (7六歩) and "Bx8h+" (8八角成). These move expressions are generated not by a language model but by a game tree. We also propose a method that maps these move expressions and game states of Shogi.
Demo
Our system generates comments for Shogi games of professional players in real time.
Selected Results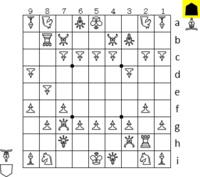 Move: P-4f
| Word | Value |
| --- | --- |
| 腰掛け (reclining) | 0.99 |
| 指 (action) | 0.99 |
| 方 (plan) | 0.99 |
| 銀 (silver) | 0.98 |
Generated: ▲4六歩から腰掛け銀を目指す指し方もあるところだが、
(trans: Black can play P-4f and aim for reclining-silver strategy, but...)

Tools
Corpus:
Shogi comment tools
Publication
Hirotaka Kameko, Shinsuke Mori, Yoshimasa Tsuruoka.
Learning a Game Commentary Generator with Grounded Move Expressions
Proceedings of 2015 IEEE Conference on Computational Intelligence and Games (2015 IEEE CIG), [paper] [slide] (to appear).